My Fenway Park Experience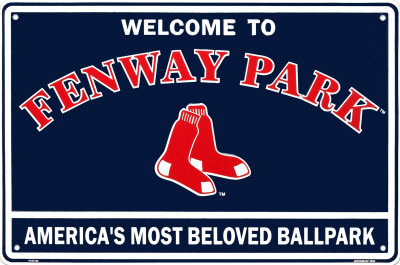 I'm a big baseball fan!  I started cheering for the Chicago Cubs while my family lived in the Chicago area when I was little.  And I'm a big Philadelphia Phillies fan now!  I moved to the Philly area in 1980, the year the Phillies won the World Series against the Kansas City Royals.  (These past five or six years have been amazing!)  I still have all my baseball cards, which I used to spend hours organizing, studying, and memorizing.  I enjoy watching baseball, especially live!  I've been to several major league stadiums and a few minor league stadiums, and I've even been to the Field of Dreams in Dyersville, Iowa.  Like I said, I'm a big baseball fan!
When I was in college, I worked for ServiceMaster for the summer where I traveled to New England every week to inventory all the equipment in various schools.  One week, I had an assignment outside of Boston, so it made sense for me to try to get into Fenway Park to see the Red Sox play the Yankees.  (I don't even like these teams!)  I couldn't resist an opportunity to see a game in this "old school" stadium.  You probably wouldn't be surprised to hear that the game was sold out.  It was definitely a "stretch" to get into the game. I walked around the stadium a couple of times looking for someone who was selling a ticket.  I just wanted to get into the stadium.  Unfortunately, no one was selling any tickets.  At this point, I was being to resign myself to the fact that I wasn't going to get into the game.
In Philly, we have cheese steak sandwiches and pretzels.  In Boston, I learned that they have sausage sandwiches.  I purchased a sausage sandwich from a street vendor.  As I enjoyed the sandwich while standing against a telephone pole a few feet away, the sandwich vendor walked over and asked if I was looking for a ticket.  I confirmed that I was indeed looking for a ticket.  He told me that he had one that he would sell to me for next to nothing.  I couldn't believe it!
I made my way into the stadium and followed signs to my seat.  Unbelievable!  My seat was 12 rows directly behind home plate – at Fenway Park!  I had a perfect view of the field and the dugouts.  Around the third inning, the sandwich vendor and his family came and sat right next to me.  We had a friendly conversation.  During the fifth inning, my new friend bought me a beer.  Can you imagine?
To be honest, I don't even remember who won the baseball game.  I do know that I will always remember my experience at Fenway Park.
Are you a baseball fan?  Have you ever experienced something unbelievable?  Have you ever had a "Fenway Park" experience?  Please share.